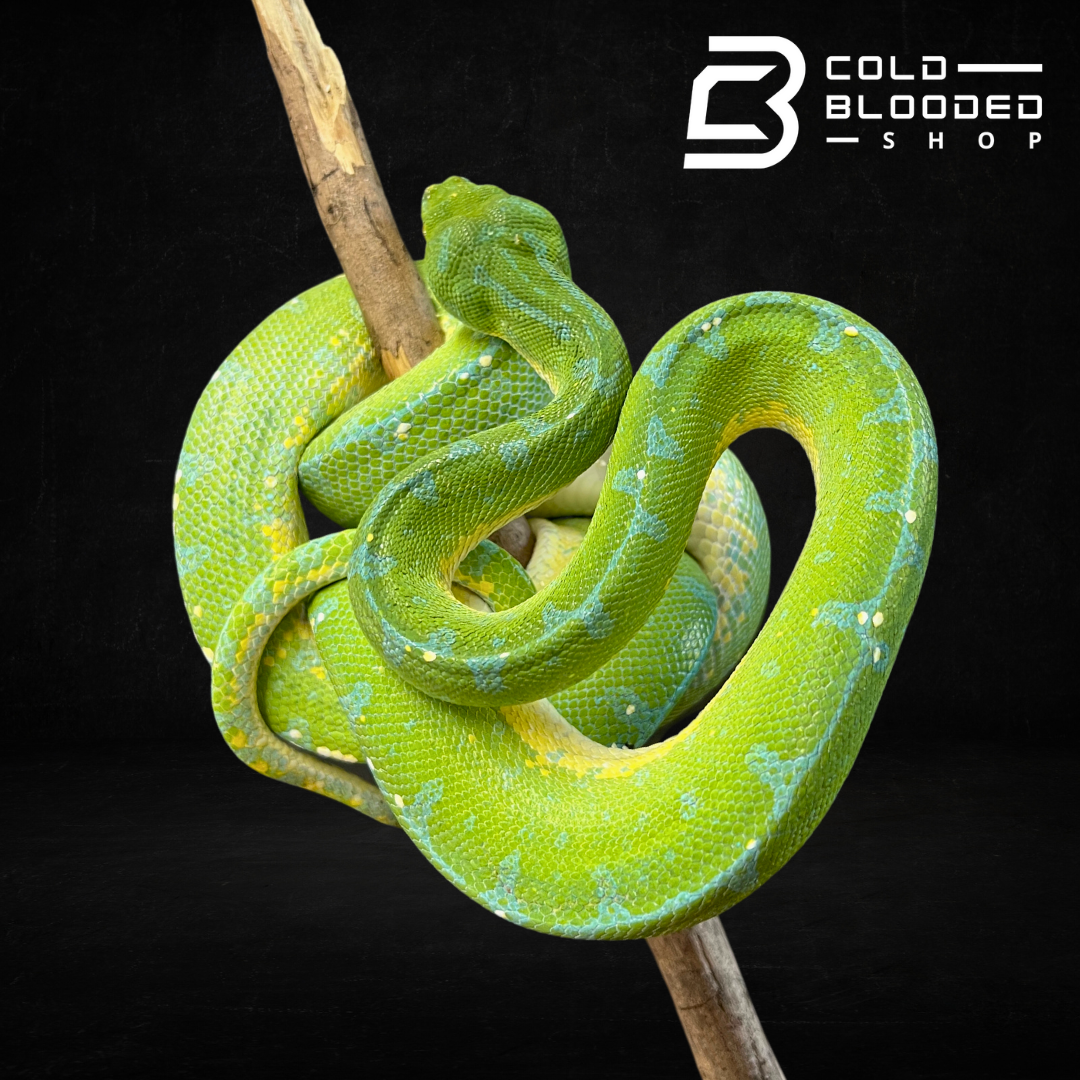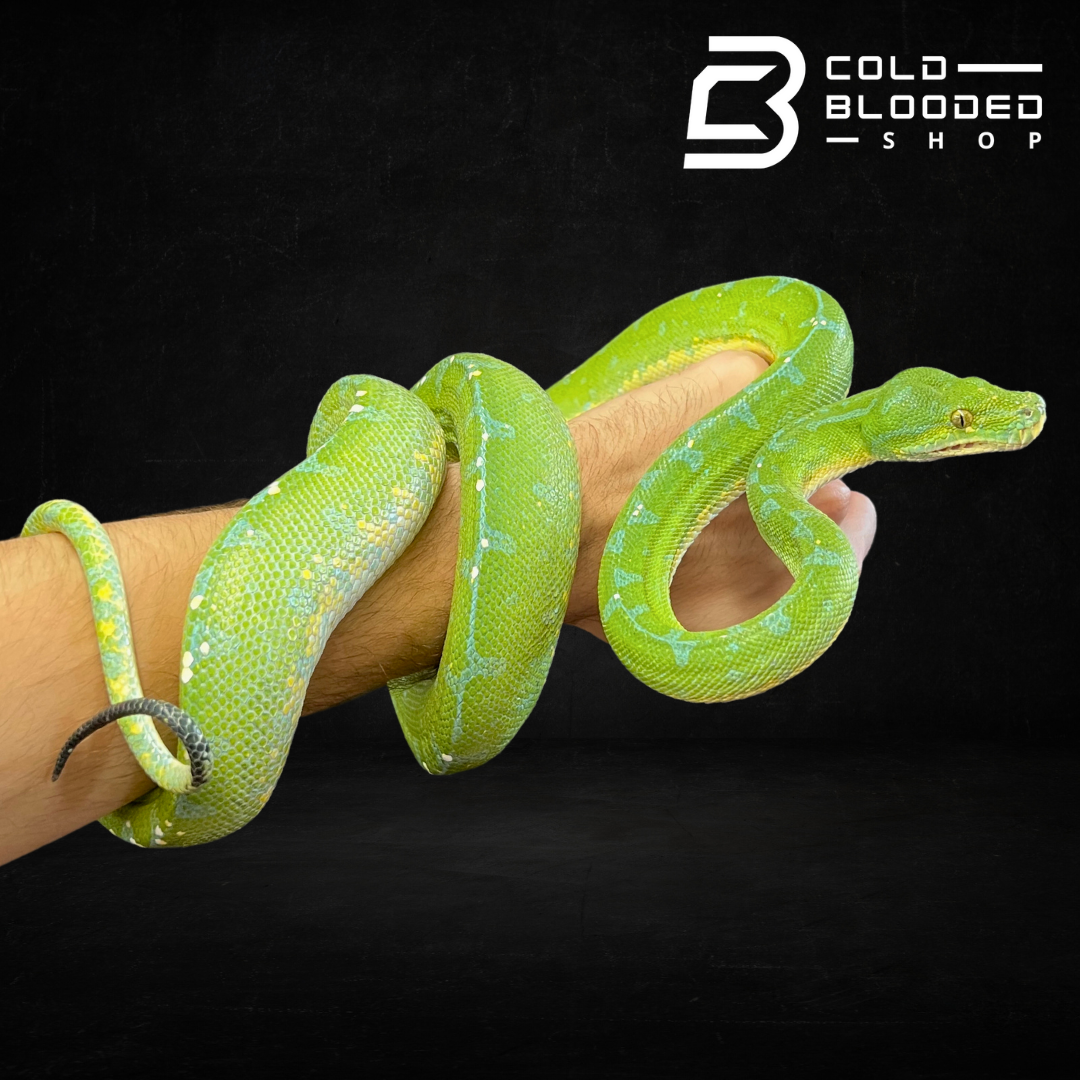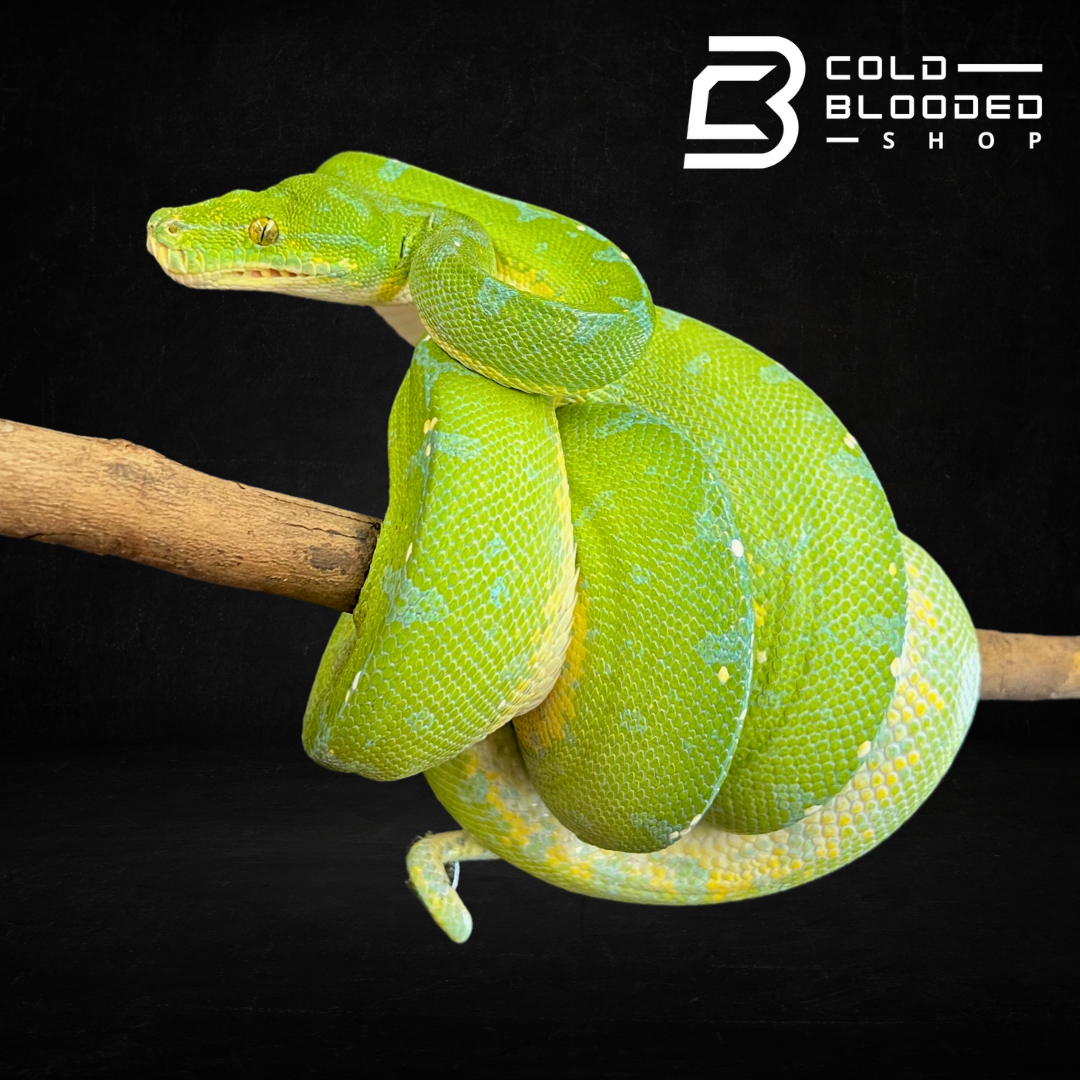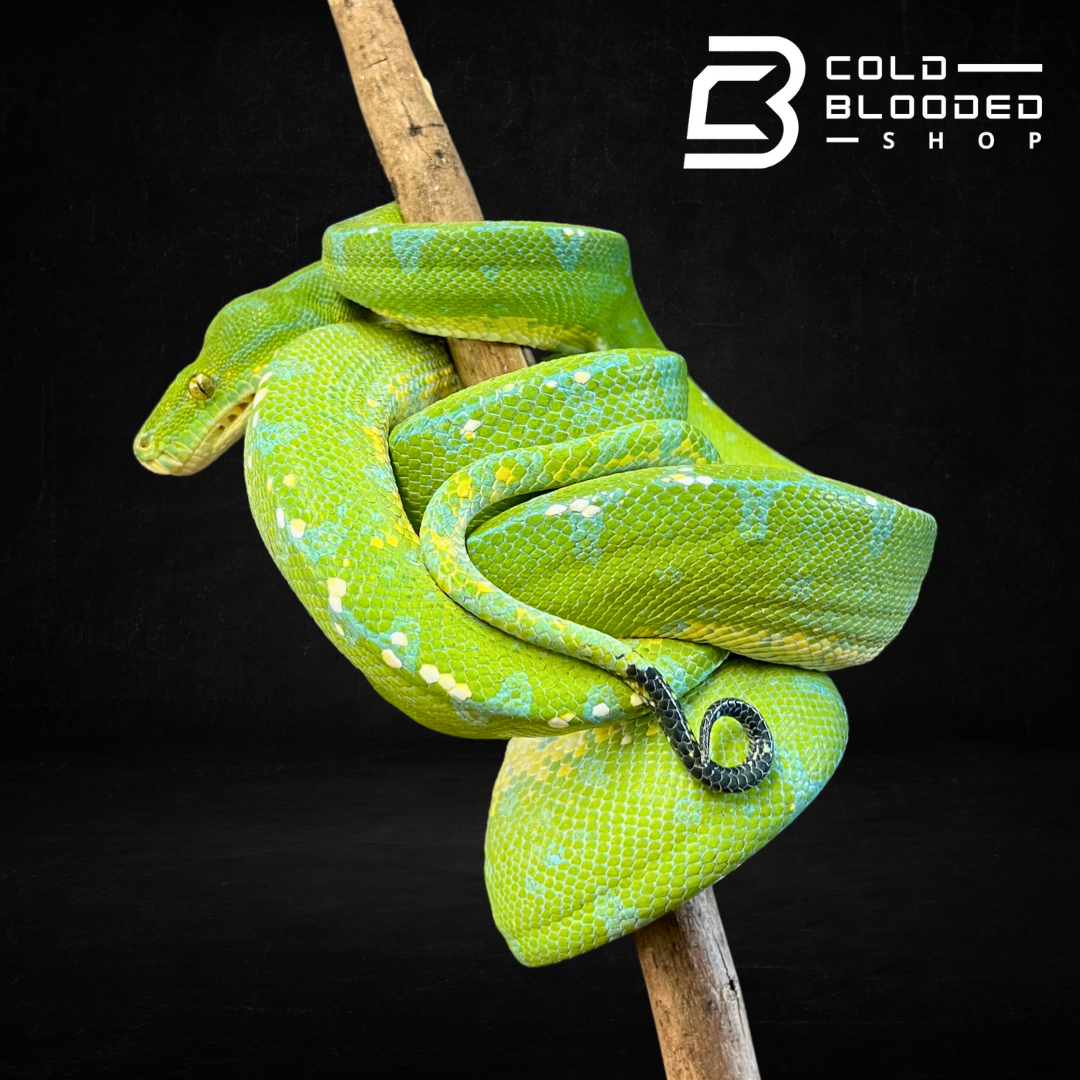 Green Tree Python
Pickup currently unavailable at Cold Blooded Kingdom
Cold Blooded Kingdom
Pickup currently unavailable
3314 W Hillsboro Blvd
Deerfield Beach FL 33442
United States
+19544272938
Scientific Name: Morelia viridis
Pos sorong locality
Imported
Female
Approximately 3 feet in length from head to tail and featuring some blue patterns all over the body!
Adults can grow up to 4-6 feet in length from head to tail
This is a non-venomous snake
Exact animal for sale pictured
Green Tree Python Habitat
Care Info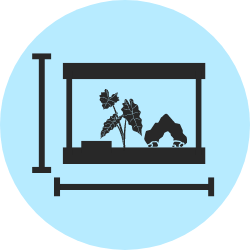 Tank Size
Baby / Juvenile:
A tall 12x12x18 - 18x18x24 inch enclosure is recommended.
Sub-Adult / Adult:
A tall 18x18x36 - 36x18x36 inch enclosure is recommended.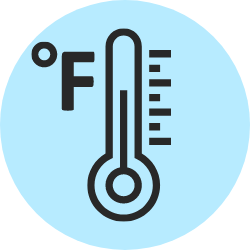 Tank Temperatures
Day: 84° - 88°F
Night: 78° - 80°F
To achieve this, proper lighting fixtures will be needed. As well as a thermostat.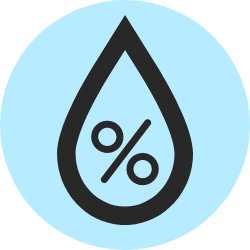 Tank Humidity
50% - 70%
To achieve this, you will need a humidity gauge, as well as a spray bottle, or you can purchase a mist machine.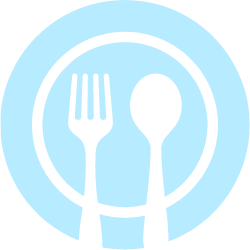 Animal's Diet
Baby / Juvenile:
Feeding on live or frozen thawed pinky-fuzzy mice.
(1 meal a week)
Sub-Adult / Adult:
Feeding on live or frozen thawed Adult - Ex-breeders Mice.
(1 meal a week)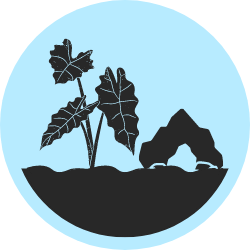 Substrate & Decor
We recommend cypress mulch or coco chips for the bedding. These pythons need lots of branches and foliage. You can even add an arboreal water bowl.
The Green Tree Python
Fun Facts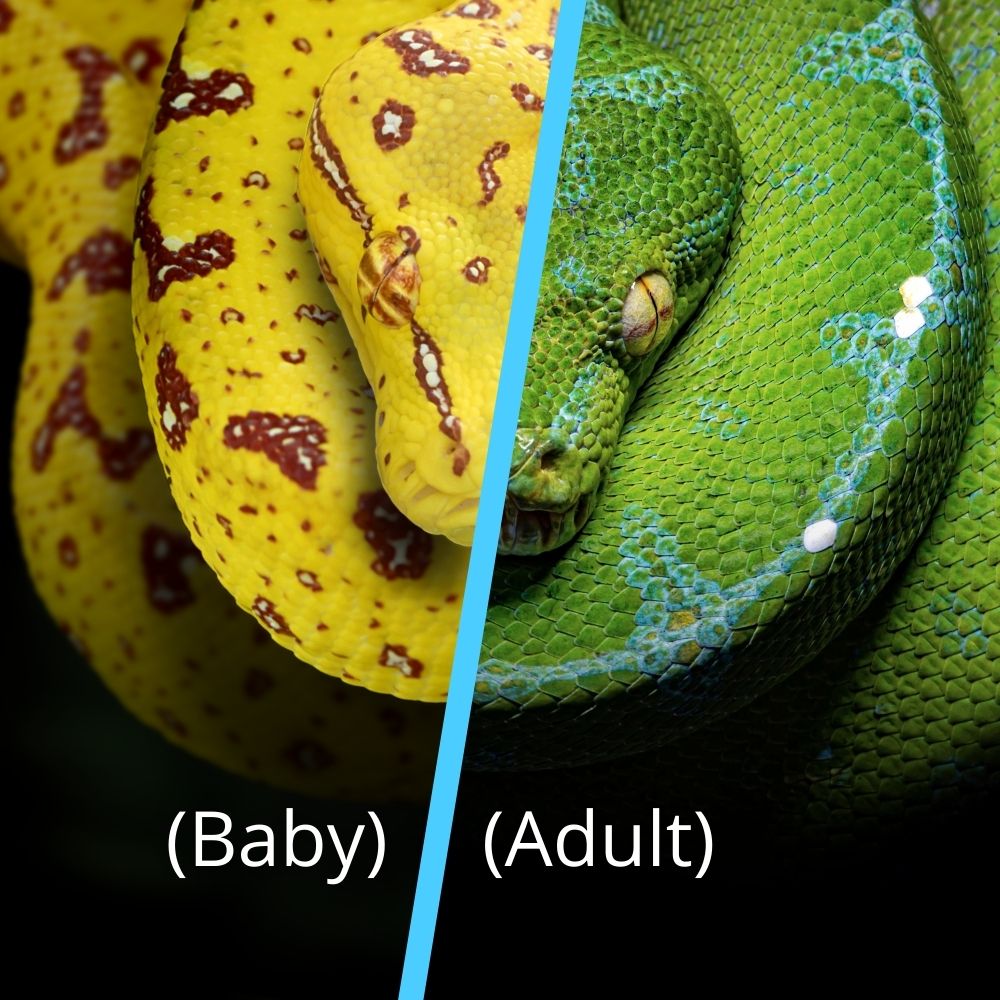 Names & Classifications:
Scientific Name: Morelia viridis
Common Names: Green Tree Python (GTP), and Chondro (which originates from their former genus, "Chondropython")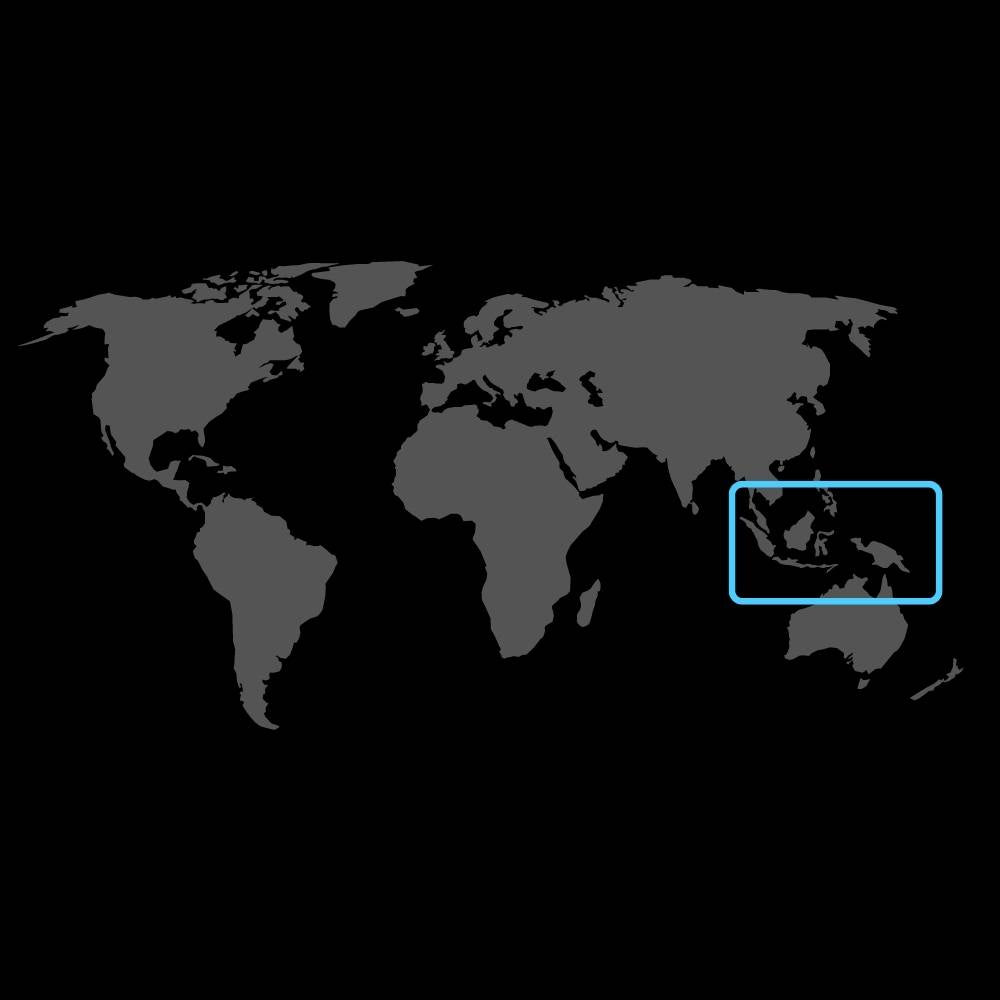 Place Of Origin:
Originating out of the northern parts of Australia, and islands of Indonesia. These snakes prefer tropical rainforests with high humidity and thick vegetation, spending most of their time in the trees.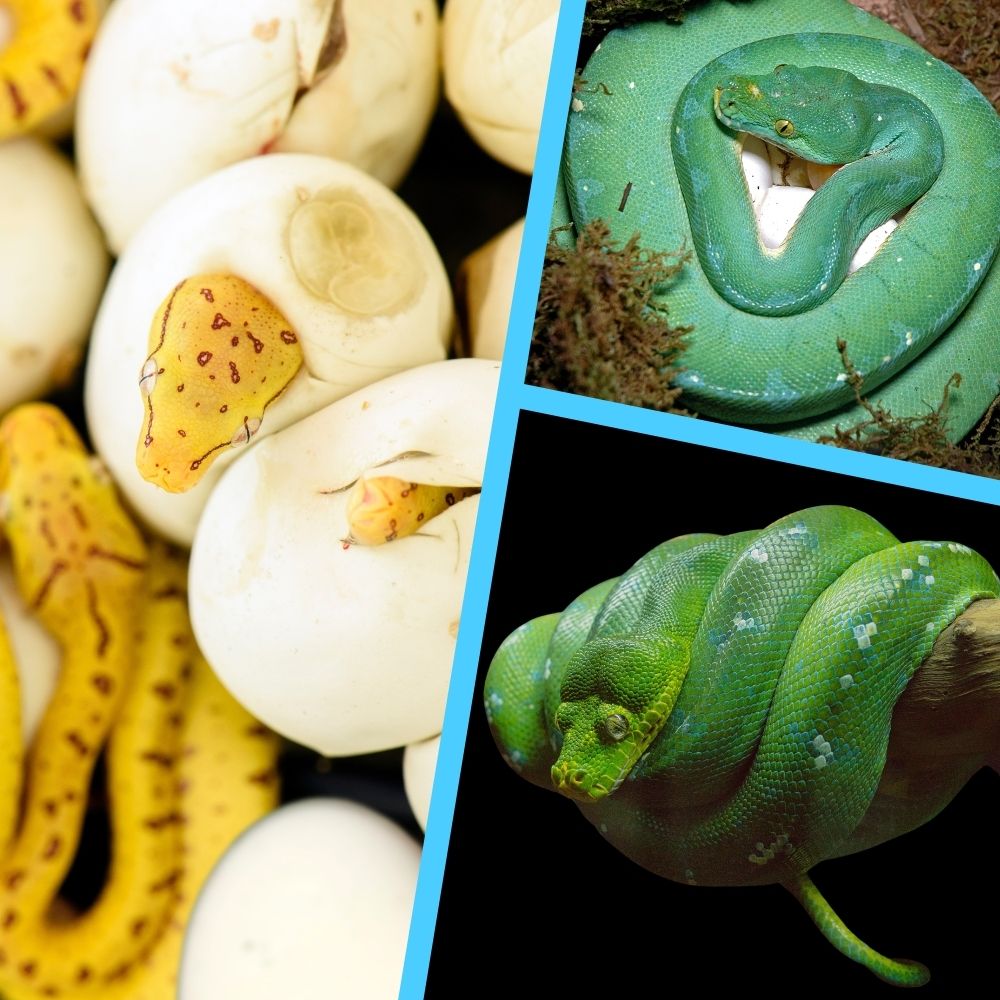 Genetics & Characteristics:
Green Tree Pythons are oviparous animals, meaning they lay eggs, instead of giving live birth like boas.
GTP's lay between 6-30+ eggs.
Sexual maturity takes 2-3 years. These pythons locate prey by sight, and use labial pits to identify the prey's heat signature, wiggling their tail, luring their prey.
Color Phases:
Baby green tree pythons hatch out in either neon yellow, bright orange, blood red, or dark brown colors, maturing into vibrant green beauties as adults, and sometimes even turn bright blue.
Life Span:
With proper care these green tree python snakes can live 15-20+ years in captivity.